You are here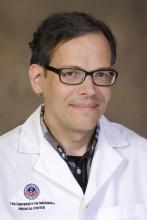 Contact:
Medical Research Building, Rm 215
Dr. Falk is an Associate Professor of Neurology and Pharmacology. Dr. Falk's research focuses on cellular and rodent models to test 1) novel pharmacological treatments for levodopa-induced dyskinesias, a major side effect of Parkinson's disease treatment, 2) novel neuroprotective  (growth factor mediated) gene therapy approaches to Parkinson's disease, and 3) neuroprotective effects of cell transplantation for the treatment of Parkinson's disease. Dr. Falk is the author of 22 peer-reviewed journal publications and over 70 peer-reviewed abstracts and conference presentations. He is a member of the Society for Neuroscience and an Associate Member of the International Parkinson and Movement Disorder Society.
Dr. Falk is on the Grant Review Committee of the Parkinson's Disease Foundation. He has also reviewed for the Michael J. Fox Foundation for Parkinson's Research, the Parkinson's UK Foundation, the American Parkinson's Disease Association, and the National Science Foundation.   
Education
Degrees:
Ph.D: Institute for Cellular Biochemistry and Clinical Neurobiology, UKE, University of Hamburg, Hamburg, Germany
Selected Publications
Caballero B, Sherman SJ, Falk T; Insights into mechanism of the protective effects of VEGF-B in dopaminergic neurons.  Parkinson's Disease 2017; vol. 2017, Article ID 4263795, 13 pages, 2017. doi:10.1155/2017/4263795. 
Sherman SJ, Estevez M, Magill AR, Falk T; Case reports showing a long-term effect of subanesthetic ketamine infusion in reducing L-DOPA-induced dyskinesias. Case Reports in Neurology 2016; 8:53-58. 
Bartlett MJ, Joseph RM, LePoidevin LM, Parent KL, Laude ND, Lazarus LB, Heien ML, Estevez M, Sherman SJ, Falk T; Long-term effect of sub-anesthetic ketamine-infusion in reducing L-DOPA-induced dyskinesia. Neuroscience Letters 2016; 612:121-125.
Flores AJ, Bartlett MJ, So LY, Laude ND, Parent KL, Heien ML, Sherman SJ, Falk T; Differential effects of the NMDA receptor antagonist MK-801 on dopamine 1 and 2 receptor-induced abnormal involuntary movements in a preclinical model. Neuroscience Letters 2014; 564: 48-52. [PubMed]
Yue X, Hariri DJ, Caballero B, Zhang S, Bartlett MJ, Kaut O, Mount DW, Wüllner U, Sherman SJ, Falk T; Comparative study of neurotrophic effects by VEGF-B and GDNF in preclinical in vivo models of Parkinson's disease. Neuroscience 2014; 258:385–400. [PubMed]
Mabrouk OS, Falk T, Sherman SJ, Kennedy RT, Polt R; Brain uptake of the opioid glycopeptide MMP-2200 – a microdialysis study.  Neuroscience Letters 2012; 531(2):99-103. [PubMed]
Falk T, Congrove NR, Zhang S, McCourt AD, Sherman SJ, McKay BS; PEDF and VEGF-A output from human retinal pigment epithelium cells grown on novel microcarriers. Journal of Biomedicine and Biotechnology 2012; Article ID 278932, 8 pages. [PubMed]
Yue X, Falk T, Zuniga LA, Szabo L, Porreca F, Polt R, Sherman SJ; Effects of the opioid agonist MMP-2200 in preclinical models of Parkinson's disease. Brain Research 2011; 1413:72-83. [PubMed]
Falk T, Yue X, Zhang S, McCourt AD, Yee BJ, Gonzalez RT, Sherman SJ; Vascular endothelial growth factor B is neuroprotective in an in vivo model of Parkinson's disease. Neuroscience Letters 2011; 496:43-47. [PubMed]
Falk T, Zhang S, Sherman SJ; Vascular endothelial growth factor B is up-regulated and exogenous VEGF-B is neuroprotective in a culture model of Parkinson's disease. Molecular Neurodegeneration 2009; 4:49. [PubMed]
Falk T, Zhang S, Sherman SJ; PEDF is neurotrophic and neuroprotective in two in vitro models of Parkinson's disease. Neuroscience Letters 2009; 458:49-52. [PubMed]
Falk T, Xie JY, Zhang S, Kennedy J, Bennett J, Sherman SJ; Over-expression of the potassium channel Kir2.3 using the dopamine-1 receptor promoter selectively inhibits striatal neurons. Neuroscience 2008; 155:114-127. [PubMed]
McKay BS, Goodman B, Falk T, Sherman SJ; Retinal pigment epithelial cell transplantation could provide trophic support in Parkinson's disease: results from an in vitro model system. Experimental Neurology 2006; 201:234-243. [PubMed]
Falk T, Zhang S, Erbe EL, Sherman SJ; Neurochemical and electrophysiological characteristics of rat striatal neurons in primary culture. Journal of Comparative Neurology 2006; 494:275-289. [PubMed]
Falk T, Kilani RK, Borders RS, Strazdas LA, Steidl JV, Yool AJ, Sherman SJ; Developmental regulation of the A-current in hippocampal neurons: Role of the Kvb1.1 potassium channel subunit. Neuroscience 2003; 120(2):387-404. [PubMed]
Falk T, Kilani RK, Yool AJ, Sherman SJ; Viral-vector mediated expression of K+ channels regulates excitability in skeletal muscle. Gene Therapy 2001; 8(18):1372-1379. [PubMed]
Falk T, Garver WS, Erickson RP, Wilson JM, Yool AJ; Expression of Niemann-Pick type C transcript in rodent cerebellum in vivo and in vitro. Brain Research 1999; 839(1):49-57. [PubMed]
Falk T, Meyerhof W, Corrette BJ, Schaefer J, Bauer CK, Schwarz JR, Richter D; Cloning, functional expression and mRNA distribution of an inwardly rectifying potassium channel protein. FEBS Letters 1995; 367:127-131. [PubMed]