You are here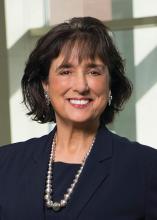 Professor of Pharmacology and Neurology
Director of the UA Center for Innovation in Brain Science
Roberta Diaz Brinton, PhD, is the director of the UA Center for Innovation in Brain Science at the University of Arizona Health Sciences. Dr. Brinton is a leading neuroscientist in the field of Alzheimer's, the aging female brain, and regenerative therapeutics.
Education
Degrees:
PhD: University of Arizona, Tucson, AZ
Selected Publications
Bacon, E.R., Mishra, A., Wang, Y., Desai, M.K., Yin, F. and Brinton, R.D., 2019. Neuroendocrine aging precedes perimenopause and is regulated by DNA methylation. Neurobiology of aging, 74, pp.213-224.
Geifman, N., Kennedy, R.E., Schneider, L.S., Buchan, I. and Brinton, R.D., 2018. Data-driven identification of endophenotypes of Alzheimer's disease progression: implications for clinical trials and therapeutic interventions. Alzheimer's research & therapy, 10(1), p.4.
Mosconi, L., Berti, V., Quinn, C., McHugh, P., Petrongolo, G., Varsavsky, I., Osorio, R.S., Pupi, A., Vallabhajosula, S., Isaacson, R.S., de Leon, M.J., and Brinton, RD., 2017. Sex differences in Alzheimer risk: Brain imaging of endocrine vs chronologic aging. Neurology, 89(13), pp.1382-1390.
Rettberg, J.R., Dang, H., Hodis, H.N., Henderson, V.W., John, J.A.S., Mack, W.J. and Brinton, R.D., 2016. Identifying postmenopausal women at risk for cognitive decline within a healthy cohort using a panel of clinical metabolic indicators: potential for detecting an at-Alzheimer's risk metabolic phenotype. Neurobiology of aging, 40, pp.155-163.
Klosinski, L.P., Yao, J., Yin, F., Fonteh, A.N., Harrington, M.G., Christensen, T.A., Trushina, E. and Brinton, R.D., 2015. White matter lipids as a ketogenic fuel supply in aging female brain: implications for Alzheimer's disease. EBioMedicine, 2(12), pp.1888-1904.
Brinton, R.D., Yao, J., Yin, F., Mack, W.J. and Cadenas, E., 2015. Perimenopause as a neurological transition state. Nature reviews endocrinology, 11(7), p.393.
Brinton, R.D., 2013. Neurosteroids as regenerative agents in the brain: therapeutic implications. Nature reviews endocrinology, 9(4), p.241.