You are here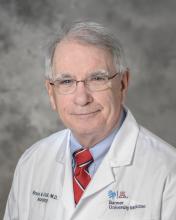 Dr. Bruce Coull is a professor of Neurology.
Research interests
Dr. Coull's areas of interest are stroke, vascular neurology and MS, focusing on causes and treatments for acute stroke and intracerebral hemorrhage. Dr. Coull is author and co-author of over 130 peer-reviewed journals, book chapters and other publications.
Honors and awards
Voted one of the "Best Doctors in America" 2008, 2009, 2010, 2011, 2013, 2014
William M. Feinberg, MD Endowed Chair in Stroke Research
Education
MD: University of Pittsburgh, Pittsburgh, PA
Internship:
Presbyterian University Hospital, Pittsburgh, PA
Fellowship:
Developmental Neurology, Stanford University, Stanford, CA
Selected Publications
Nael K, Khan R, Choudhary G, Meshksar A, Villablanca P, Tay J, Drake K, Coull BM, Kidwell CS. Six-Minute Magnetic Resonance Imaging Protocol for Evaluation of Acute Ischemic Stroke Pushing the Boundaries. Stroke. 2014;45:1985–1991.
Sim Y, Nokes B, Byreddy S, Chong J, Coull BM, Labiner DM. Healthcare utilization of patients with epilepsy in Yuma County, Arizona: Do disparities exist? Epilepsy Behav. 2014;31:307–311.
Taylor-Piliae RE, Boros D, Coull BM. Strategies to Improve Recruitment and Retention of Older Stroke Survivors to a Randomized Clinical Exercise Trial. J. Stroke Cerebrovasc. Dis. 2014;23:462–468.
Nael K, Meshksar A, Liebeskind DS, Coull BM, Krupinski EA, Villablanca JP. Quantitative analysis of hypoperfusion in acute stroke: arterial spin labeling versus dynamic susceptibility contrast. Stroke J. Cereb. Circ. 2013;44:3090–3096.
Taylor-Piliae RE, Hepworth JT, Coull BM. Predictors of depressive symptoms among community-dwelling stroke survivors. J. Cardiovasc. Nurs. 2013;28:460–467.
Taylor-Piliae RE, Latt LD, Hepworth JT, Coull BM. Predictors of gait velocity among community-dwelling stroke survivors. Gait Posture. 2012;35:395–399.
Hsu F-C, Sides EG, Mychaleckyj JC, Worrall BB, Elias GA, Liu Y, Chen W-M, Coull BM, Toole JF, Rich SS, Furie KL, Sale MM. Transcobalamin 2 variant associated with poststroke homocysteine modifies recurrent stroke risk. Neurology. 2011;77:1543–1550.
Coull BM, Johnston SC. Statins: not just for the young or the faint of heart. Neurology. 2009;72:684–685.
Bruno A, Kent TA, Coull BM, Shankar RR, Saha C, Becker KJ, Kissela BM, Williams LS. Treatment of hyperglycemia in ischemic stroke (THIS): a randomized pilot trial. Stroke J. Cereb. Circ. 2008;39:384–389.
Ritter LS, Stempel KM, Coull BM, McDonagh PF. Leukocyte-platelet aggregates in rat peripheral blood after ischemic stroke and reperfusion. Biol. Res. Nurs. 2005;6:281–288. 
Residency:
Stanford University, Stanford, CA