You are here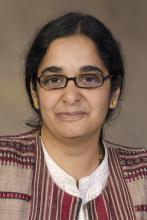 Lalitha Madhavan, MD, PhD
Contact:
Life Sciences North, Room #350
Dr Madhavan is an Associate Professor in the Department of Neurology, and directs a research program that broadly centers on Stem Cell Biology and Regenerative Medicine.  The ultimate goal is to use this research to develop rational therapeutic strategies to tackle aging and age-related neurological disorders, such as Alzheimer's and Parkinson's Disease.
For more details on Dr. Madhavan's research, please visit her lab website at
http://madhavanlab.medicine.arizona.edu/
.
Education
Degrees:
MD: Baroda Medical College, Vadodara, India
PhD: Neuroscience, Iowa State University, Ames, IA
Selected Publications
Ray S, Corenblum MJ, Anandhan A, Reed A, Ortiz FO, Zhang DD, Barnes CA, and Madhavan L. A role for Nrf2 expression in defining the aging of hippocampal neural stem cells. Cell Transplantation. 2018 Jan 1. PMID: 29871525
Teves JMY, Bhargava V, Kirwan KR, Corenblum MJ, Justiniano R, Wondrak GT, Annadurai A, Flores AJ, Schipper DA, Khalpey Z, Sligh JE, Curiel-Lewandrowski C, Sherman S and Madhavan L. Parkinson's disease skin fibroblasts display signature alterations in growth, redox homeostasis, mitochondrial function and autophagy. Front. Neurosci. 2018 Jan 12;11:737. PMID: 29379409
Corenblum, M. J., Madhavan, L. Small-scale Propagation of Human iPSCs in Serum-free Conditions for Routine Immunocytochemical Characterization. J. Vis. Exp. (120), e55260, doi:10.3791/55260 (2017).  PMID: 28287577
Umashankar A, Corenblum MJ, Ray S, Valdez M, Yoshimaru E, Trouard T, and Madhavan L.  Effects of the iron oxide nanoparticle Molday Ion Rhodamine B on the viability and regenerative function of neural stem cells: Relevance to clinical translation. International Journal of Nanomedicine 2016:11 1731–1748. PMID: 27175074
Corenblum MJ, Ray S, Remley QW, Long M, Harder B, Zhang DD, Barnes CA, and Madhavan L. Reduced Nrf2 expression mediates the decline in neural stem cell function during a critical middle-age period.  Aging Cell. 2016 Apr 20. doi: 10.1111/acel.12482. PMID: 27095375
Madhavan L, Daley BF, Davidson BL, Boudreau RL, Cole-Strauss A, Lipton JW, Steece-Collier K, and Collier TJ; Sonic hedgehog controls the phenotypic fate and and therapeutic potential of grafted neural stem cells in a model of nigrostriatal degeneration.  PLOSOne. 2015 Sep 4;10(9):e0137136. PMID: 26340267
Corenblum MJ,  Flores AJ, Badowski M, Harris DT, and Madhavan L.  Systemic human CD34+ stem cells populate the brain and activate host-based mechanisms to counteract nigrostriatal neurodegeneration. Regen Med. 2015 Aug;10(5):563-77. PMID: 26237701
Madhavan L.  Redox-based regulation of neural stem cell function and Nrf2. Biochemical Society Transactions, Biochem. Soc. Trans. (2015) 43, 627–631
Madhavan L. Chapter on Neural Stem Cells for Intrinsic Brain Repair in Aging and Neural Degeneration. Book Title: "Neural Stem Cells in Health and Disease", World Scientific Publishing Company, Singapore. http://www.worldscientific.com/worldscibooks/10.1142/9309