You are here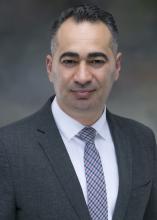 Contact:
1625 N Campbell Avenue, Tucson, AZ 85719
For All Patient Inquiries:
Dr. Kaddouh is a critical care neurologist with expertise in Neurological Emergencies and Neurotrauma, as well as the integration of Cross-Specialty Education in caring for patients with acute neurological injury. Dr. Kaddouh graduated from Damascus University School of Medicine in 2008. He has since completed residency training in both Internal Medicine and Neurology at Canton Medical Education Foundation (CMEF) in Northeast Ohio and at the University of Massachusetts Medical School, respectively. This was followed by a Neurocritical Care fellowship at Yale School of Medicine| Yale New Haven Hospital, where he also obtained a master's degree in medical education.
Dr. Kaddouh strongly believes in providing comprehensive state-of-the-art care to every one of his patients while supporting their families and caregivers through their ICU stay. He is dedicated to advancing the collaboration among specialties who treat patients with neurologic injury using both research and education platforms to improve patient outcome. Dr. Kaddouh is passionate about clinical research and has had several years of experience in clinical trials in emergency neurology, through which he aspires to optimize caring for patients with neurotrauma, epileptic disorders and neurovascular emergencies including ischemic stroke and intracranial hemorrhages.
Education
Degrees:
MD: 2008, University of Damascus Faculty of Medicine, Damascus, Syria
MHS: 2023, Yale University School of Medicine, New Haven, CT
Residency:
2014; Department of Internal Medicine, Canton Medical Education Foundation, Canton, OH
2017,Department of Neurology, University of Massachusetts Medical School, Worcester, MA
Fellowship:
2017-2019, Neurocritical Care and Emergency Neurology, Yale University School of Medicine, New Haven, CT
Selected Publications
Margo T.E., McMullin P.R., Kaddouh F. An interval of clinically silent gastrointestinal bleed in dysautonomic spinal cord injury: a case report. BMC Neurol 23, 70 (2023).
Espinosa J, Rehman U, Kaddouh F. Intravenous Iron Administration Results in Cerebral Edema Expansion. Abstracts from the 39th Annual Symposium of the National Neurotrauma Society, including the AANS/CNS Joint Section on Neurotrauma and Critical Care. Journal of Neurotrauma. Jun 2022.A-1-A-128.
Brown SC, Cormier J, Tuan J, Lier, AJ, McGuone D, Armstrong PM, Kaddouh F, Parikh S, Landry ML, Gobeske, KT. Four Human Cases of Eastern Equine Encephalitis in Connecticut, USA, during a Larger Regional Outbreak, 2019. Emerging Infectious Diseases. 2021;27(8):2042-2051.
Sheth KN, Mazurek MH, Yuen MM, Cahn BA, Shah JT, Ward A, Kim JA, Gilmore EJ, Falcone GJ, Petersen N, Gobeske KT, Kaddouh F, Hwang DY, Schindler J, Sansing L, Matouk C, Rothberg J, Sze G, Siner J, Rosen MS, Spudich S, Kimberly WT. Assessment of Brain Injury Using Portable, Low-Field Magnetic Resonance Imaging at the Bedside of Critically Ill Patients. JAMA Neurol. 2020 Sep 8: e203263.
Ammar AA, Ammar MA, Owusu KA, Brown SC, Kaddouh F, Elsamadicy AA, Acosta JN, Falcone GJ. Andexanet Alfa Versus 4-Factor Prothrombin Complex Concentrate for Reversal of Factor Xa Inhibitors in Intracranial Hemorrhage. Neurocrit Care. 2021 Jan 6.
Radcliffe C, Lier A, Doilicho N, Parikh S, Kaddouh F. Bordetella bronchiseptica: a rare cause of meningitis. BMC Infect Dis. 2020 Dec 3;20(1):922.
Hill MD, Goyal M, Menon BK, Nogueira RG, McTaggart RA, Demchuk AM, Kaddouh, F, Poppe AY, Lopez GA, English J, Tymianski M; ESCAPE-NA1 Investigators. Efficacy and safety of nerinetide for the treatment of acute ischaemic stroke (ESCAPE-NA1): a multicentre, double-blind, randomised controlled trial. Lancet. 2020 Mar 14;395(10227):878-887.
Ghasemi M, Kaddouh F, Deb A, Owegi MA. Delayed-onset MRI findings in acute chorea related to anoxic brain injury. Clin Imaging. 2018 Mar-Apr; 48:22-25.
Clinical
American Board of Psychiatry and Neurology- Brain Injury Medicine (ABPN-BIM)
American Board of Psychiatry and Neurology- Neurocritical Care (ABPN-NCC)
American Board of Psychiatry and Neurology (ABPN)
American Board of Internal Medicine (ABIM)