You are here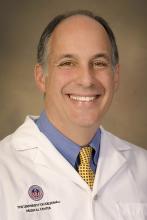 Professor and Head, Neurology
Dr. Labiner is Professor and Head of the Department of Neurology at The University of Arizona College of Medicine, and a Professor of Pharmacy Practice and Science at The University of Arizona College of Pharmacy, both divisions of The University of Arizona Health Sciences Center in Tucson. He received his MD from and completed his internship at the Medical College of Georgia. He completed a residency with the Department of Neurology at Columbia University in New York and a fellowship at Duke University. He is the President of the National Association of Epilepsy Centers, as well as a member of the Board of Directors of the Epilepsy Foundation of America and the American Epilepsy Society.  
Dr. Labiner is certified in: 
Neurology by the American Board of Psychiatry and Neurology
Epilepsy by the American Board of Psychiatry and Neurology
Education
Degrees:
MD: Medical College of Georgia, Augusta, GA
Internship:
Medical College of Georgia, Augusta, CA
Residency:
Neurological Institute of NY/ Columbia-Presbyterian Medical Center, New York, NY
Fellowship:
Epilepsy, Duke Center for the Advanced Study of Epilepsy, Durham, NC
Selected Publications
Sim Y, Nokes B, Byreddy S, Chong J, Coull BM, Labiner DM. Healthcare utilization of patients with epilepsy in Yuma County, Arizona: Do disparities exist? Epilepsy Behav. 2014;31:307–311.
Nokes B, Sim Y, Gibson B, Byreddy S, Labiner DM, Coull B, Chong J. Assessment of Stroke Risk in Southern Arizona, the Pairing of Acculturation and Stroke Risk Factor Development. J. Immigr. Minor. Health Cent. Minor. Public Health. 2013;
Chong J, Hesdorffer DC, Thurman DJ, Lopez D, Harris RB, Hauser WA, Labiner ET, Velarde A, Labiner DM. The prevalence of epilepsy along the Arizona-Mexico border. Epilepsy Res. 2013;105:206–215.
Labiner DM, Drake KW. Formularies, costs, and quality of care: Formulary restrictions are not the answer, especially for epilepsy. Neurol. Clin. Pract. 2013;3:71–74.
Helmers SL, Begnaud J, Cowley A, Corwin HM, Edwards JC, Holder DL, Kostov H, Larsson PG, Levisohn PM, De Menezes MS, Stefan H, Labiner DM. Application of a computational model of vagus nerve stimulation. Acta Neurol. Scand. 2012;126:336–343.
Kleinman NL, Sadosky A, Seid J, Martin RC, Labiner DM. Costs, work absence, and adherence in patients with partial onset seizures prescribed gabapentin or pregabalin. Epilepsy Res. 2012;102:13–22.
Bateman LM, Begley CE, Ben-Menachem E, Berg AT, Berkovic SF, Cascino GD, Drazkowski J, Edwards JC, Engel J, French JA, Gilliam FD, Hoerth MT, Jehi LE, Kanner AM, Krauss GL, Labiner DM, Loddenkemper T, Luders HO, McKhann GM, McLachlan R, Modi A, Pennell PB, Shafer PO, Sirven JI, Stern JM, Szaflarski JP, Theodore WH. Overcoming barriers to successful epilepsy management. Epilepsy Curr. Am. Epilepsy Soc. 2012;12:158–160.
Chong J, Drake K, Atkinson PB, Ouellette E, Labiner DM. Social and family characteristics of Hispanics with epilepsy. Seizure J. Br. Epilepsy Assoc. 2012;21:12–16.
Stern JM, Labiner DM, Gilliam FG, Penovich PE, Onofrey M, Eagan CA, Holmes GL. More effective assessment of adverse effects and comorbidities in epilepsy: results of a Phase II communication study. Epilepsy Behav. EB. 2011;22:552–556.
Ouellette E, Chong J, Drake K, Labiner DM. Emergency department care of seizure patients: demographic trends in southern Arizona. Epilepsy Behav. EB. 2011;21:382–386.