You are here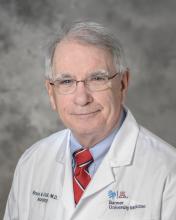 Vice Dean, Faculty Affairs
Contact:
For All Patient Inquiries:
Dr. Bruce Coull is a professor of Neurology.
Research interests
Dr. Coull's areas of interest are stroke, vascular neurology and MS, focusing on causes and treatments for acute stroke and intracerebral hemorrhage. Dr. Coull is author and co-author of over 130 peer-reviewed journals, book chapters and other publications.
Honors and awards
Voted one of the "Best Doctors in America" 2008, 2009, 2010, 2011, 2013, 2014
William M. Feinberg, MD Endowed Chair in Stroke Research
Education
Degrees:
MD: University of Pittsburgh, Pittsburgh, PA
Internship:
Presbyterian University Hospital, Pittsburgh, PA
Residency:
Stanford University, Stanford, CA
Fellowship:
Developmental Neurology, Stanford University, Stanford, CA
Selected Publications

1: Epstein KA, Viscoli CM, Spence JD, Young LH, Inzucchi SE, Gorman M,
Gerstenhaber B, Guarino PD, Dixit A, Furie KL, Kernan WN; IRIS Trial
Investigators. Smoking cessation and outcome after ischemic stroke or TIA.
Neurology. 2017 Oct 17;89(16):1723-1729. doi: 10.1212/WNL.0000000000004524. Epub 
2017 Sep 8. PubMed PMID: 28887378; PubMed Central PMCID: PMC5644463.

2: Chinthammit C, Coull BM, Nimworapan M, Bhattacharjee S. Co-occurring Chronic
Conditions and Economic Burden among Stroke Survivors in the United States: A
Propensity Score-Matched Analysis. J Stroke Cerebrovasc Dis. 2017
Feb;26(2):393-402. doi: 10.1016/j.jstrokecerebrovasdis.2016.09.040. Epub 2016 Oct
25. PubMed PMID: 27793537.

3: Grams RW, Kidwell CS, Doshi AH, Drake K, Becker J, Coull BM, Nael K.
Tissue-Negative Transient Ischemic Attack: Is There a Role for Perfusion MRI? AJR
Am J Roentgenol. 2016 Jul;207(1):157-62. doi: 10.2214/AJR.15.15447. Epub 2016 Apr
12. PubMed PMID: 27070836.

4: Taylor-Piliae RE, Mohler MJ, Najafi B, Coull BM. Objective fall risk detection
in stroke survivors using wearable sensor technology: a feasibility study. Top
Stroke Rehabil. 2016 Dec;23(6):393-399. Epub 2016 Mar 15. PubMed PMID: 26382725.

5: Nael K, Khan R, Choudhary G, Meshksar A, Villablanca P, Tay J, Drake K, Coull 
BM, Kidwell CS. Six-minute magnetic resonance imaging protocol for evaluation of 
acute ischemic stroke: pushing the boundaries. Stroke. 2014 Jul;45(7):1985-91.
doi: 10.1161/STROKEAHA.114.005305. Epub 2014 Jun 10. PubMed PMID: 24916906.

6: Taylor-Piliae RE, Hoke TM, Hepworth JT, Latt LD, Najafi B, Coull BM. Effect of
Tai Chi on physical function, fall rates and quality of life among older stroke
survivors. Arch Phys Med Rehabil. 2014 May;95(5):816-24. doi:
10.1016/j.apmr.2014.01.001. Epub 2014 Jan 17. PubMed PMID: 24440643.

7: Sim Y, Nokes B, Byreddy S, Chong J, Coull BM, Labiner DM. Healthcare
utilization of patients with epilepsy in Yuma County, Arizona: do disparities
exist? Epilepsy Behav. 2014 Feb;31:307-11. doi: 10.1016/j.yebeh.2013.10.018. Epub
2013 Nov 5. PubMed PMID: 24210458.

8: Coull BM. Comment: Natriuretic peptides as predictive biomarkers of stroke
outcome. Neurology. 2013 Dec 3;81(23):1983. doi:
10.1212/01.wnl.0000436941.55281.9c. Epub 2013 Nov 1. PubMed PMID: 24186913.