You are here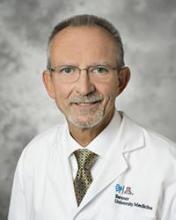 Allan A. Anderson, MD, MMM, CMD, DLFAPA
Director of Banner Alzheimer's Institute Tucson
Contact:
Banner Alzheimers Institute
For All Patient Inquiries:
Allan A. Anderson, MD, MMM, CMD, DLFAPA, is an experienced leader, researcher and provider eager to join the growing team, which will provide outpatient care, clinical research, education and support and community outreach.
As an expert in dementia care, Dr. Anderson has a track record of developing and incorporating innovative dementia care practice models in outpatient memory clinics, as well as specialized assisted living dementia programs. He is a strong proponent of a team approach to Alzheimer's and dementia care which includes training interdisciplinary teams to deliver care and understanding while addressing the needs of Alzheimer's and dementia patient and family members.
"My approach is based on empowerment. People can reach their greatest potential if they are empowered. I value the Banner Alzheimer's Institute approach to care, which includes the patient, their family and the greater community," said Dr. Anderson.
Education
Internship:
Hahnemann University School of Medicine
Residency:
Psychiatry, Rutgers New Jersey Medical School