You are here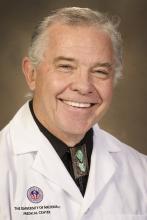 Dr. Bamford is an Associate Professor of Neurology. He specializes in neurophysiology, sleep disorders and peripheral neurology.
Education
Degrees:
MD: Royal College of Physicians and Surgeons, Dublin, Ireland
Internship:
Tucson Medical Center, Tucson, AZ
Residency:
University of Arizona, Tucson, AZ
Selected Publications
Bamford C. Menstrual associated sleep disorder. An unusual hypersomniac variant associated with both menstruation and amenorrhea with a possible link to prolactin and metoclopramide. Sleep, 1993, 16, 484-486.
Bamford C, Montgomery E, Munoz J, Namerow N, Stumpf C, and Pry S. Post-polio syndrome - response to deprenyl (selegiline). International Journal of Neuroscience, 1993, 71, 183-188. 
Bamford C, Graeme K, and Guthkelch N. Somatosensory evoked potentials from distal, middle, and proximal lower limb stimulation. Electromyography and Clinical Neurophysiology, 1992, 32, 247-254. 
Sibley W, Bamford C, Clark K, Smith M, and Laguna J. Physical trauma and multiple sclerosis - report of a completed prospective study. Journal of Neurology, Neurosurgery, and Psychiatry, 1991, 54, 584-589.
Tolander L, Bamford C, Yoshino M, Downing S, and Bryan G. Neurologic complications of the tryptophan-associated eosinophilia-myalgia syndrome. Archives of Neurology, 1991, 48, 436-438.